As I strolled through my nearby shopping centre this past weekend, it is clear that traffic is down and, presumably for most retailers, sales are as well.
That being said, retailers invest A LOT of time, effort and money into their marketing campaigns. From designing, printing and shipping the marketing assets to each store all the way to the staffing cost to change signage and window displays. And, lastly, any other advertising to further promote their campaigns.
With most shopping centres experiencing declining foot traffic, fewer and fewer consumers are seeing these marketing assets and window displays.
Consumers are being given fewer and fewer reasons to go to the shopping centre. Both retailers and shopping centre are giving consumers fewer and fewer reasons to go to the shopping centre…and that's no joke!
Every shopping centre promotes their retailers' marketing campaigns to millions of consumers via their mobile site, website, social media, email list, app, events and in-mall digital signage to drive impressions, traffic & sales to its retailers. Every retailer pays significantly into the shopping centres' marketing as part of their lease agreement. However, as you will see in the Retailer Engagement Reports below, a significant percentage of retailers are NOT taking full advantage of these already-paid-for marketing opportunities.
Why are retailers NOT taking advantage of these marketing opportunities?
For a retailer to communicate, distribute and manage their marketing campaigns to each shopping centre is a complex, time-consuming and fragmented process. Every shopping centre has their own policies, rules and requirements making it impossible for a retailer to easily manage. The Retailer Engagement Reports re-enforce this, showing the significant disconnect between what is featured on the shopping centres' digital & physical marketing channels and what is actually happening at the retailers. This is why we built Engagement Agents.
The reports summarize retailer engagement for December 26, 2017 and March 31, 2018 at the Top 10 Shopping Centres in the USA and Canada based on annual sales per square foot. Safe to say, almost every retailer had at least one or more campaigns happening during both of these shopping times.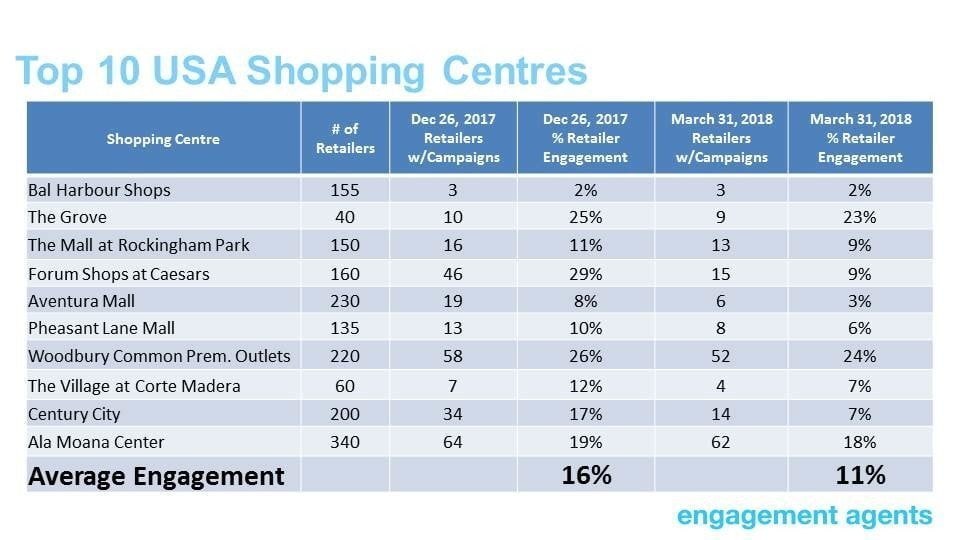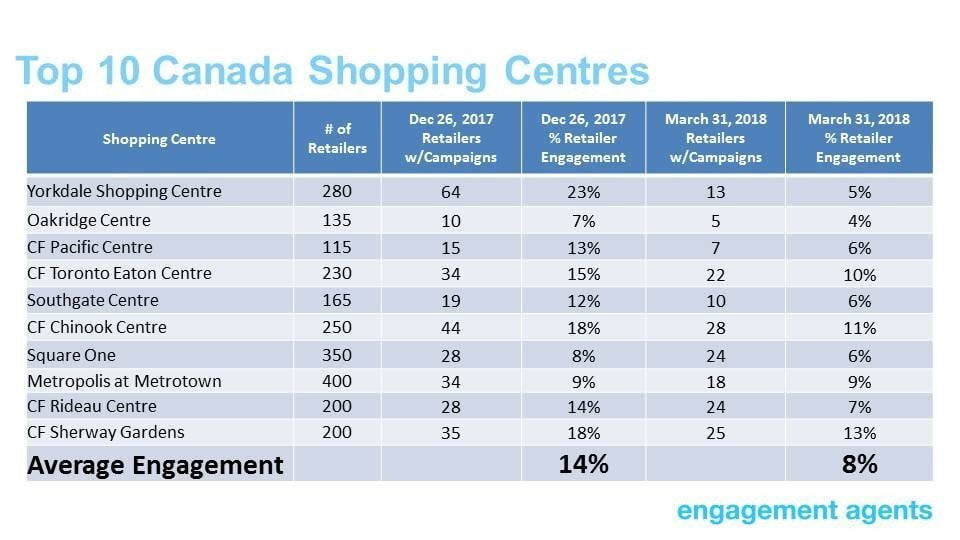 By engaging their shopping centres' digital and physical marketing channels, a retailer can drive a tremendous amount of impressions, traffic and sales to their stores, ecommerce and social channels.
More Retailer Engagement = More Consumer Engagement = More Traffic and More Sales!