According to research, Mother's Day is the third largest retail holiday, behind the winter holidays and the back-to-school season.
Why did retailers miss maximizing Mother's Day mall marketing?
While not every retailer caters to Mom, it is safe to say every retailer had a campaign running on May 13th and the days or weeks leading up to it; whether it was a new collection, featured product, sale, gift with purchase, contest or event.
Every shopping centre promotes their retailers' marketing campaigns to millions of consumers via their mobile site, website, social media, email list, app, events and in-mall digital signage to drive impressions, traffic & sales to its retailers. Every retailer pays significantly into the shopping centres' marketing as part of their leases.
However, as you will see in our Retailer Engagement Reports below, a significant percentage of retailers are NOT taking full advantage of these already-paid-for marketing opportunities; costing both retailers and shopping centres lost traffic and sales. The reports summarize retailer engagement comparing December 26, 2017, as a benchmark, to May 13, 2018 at the Top 10 Shopping Centres in the USA and Canada based on annual sales per square foot.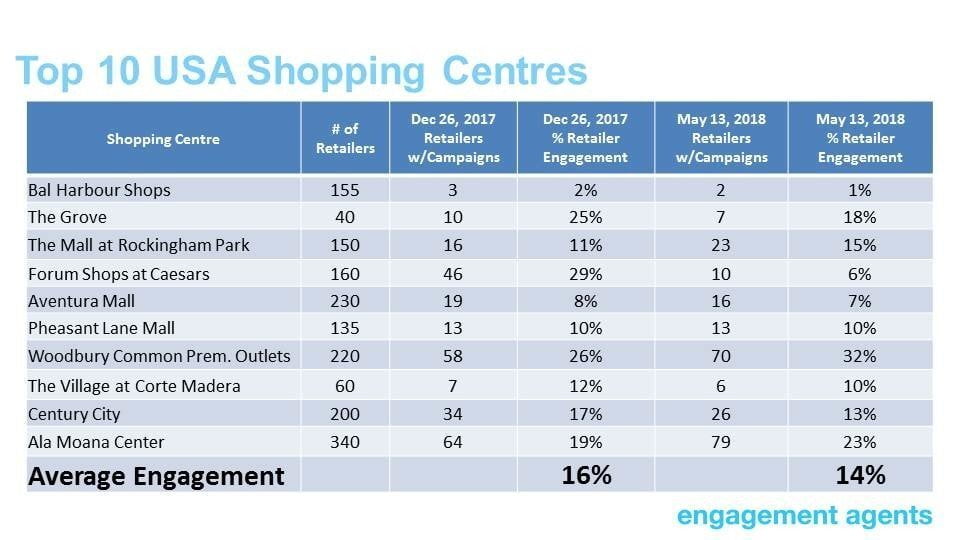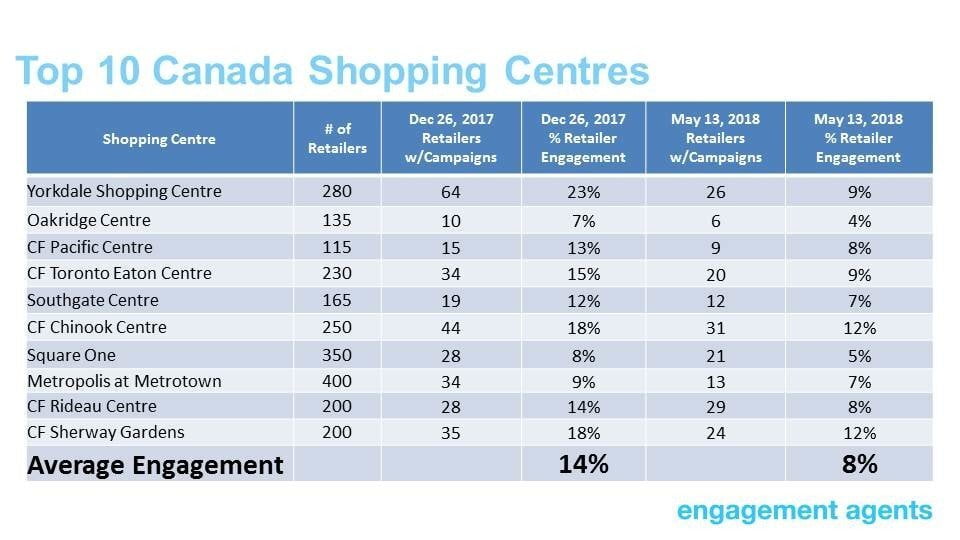 Why are retailers NOT taking advantage of these marketing opportunities?
For a retailer to communicate, distribute and manage their marketing campaigns to each shopping centre is a complex, time-consuming and fragmented process. Every shopping centre has their own policies, rules and requirements making it impossible for a retailer to easily manage. The Retailer Engagement Reports re-enforce this, showing the significant disconnect between what is featured on the shopping centres' digital & physical marketing channels and what is actually happening at the retailers.
This is one of the many reasons why we built Engagement Agents – to help retailers promptly engaging their already-paid-for shopping centres' digital and physical marketing channels in order to drive a tremendous amount of impressions, traffic and sales to their stores, ecommerce and social channels.
More Retailer Engagement = More Consumer Engagement = More Traffic and More Sales!