Black Friday 2018 was one of the busiest shopping days of the year. By all accounts, a resounding success for both in-store and online sales.
How busy was Black Friday for you?
Busy enough?
Can it ever be busy enough?
And, what can you take away from the Engagement Agents 2018 Black Friday Retailer Engagement Report to improve?
What About the $Millions Left on the Table?
The good news is Black Friday 2018 was a success. The not-so-good news? It could have been an even BIGGER success for you!
You were busy, but you could have been busier. And you could have had your fair share of the $Millions in sales left on the table.
How you ask?
You, like all retailers, pay into your shopping centers' marketing as part of your lease agreement. And, your shopping centers are reaching millions of consumers through their marketing channels in efforts to drive traffic and sales. But, if you are like most retailers, you are not taking full advantage of the tremendous amounts of already-paid-for marketing opportunities. By engaging your shopping centers' physical and digital marketing channels, you can drive more impressions and traffic to your brick & mortar stores and ecommerce channels.
And we all know more traffic = MORE SALES!
In addition, you have already invested A LOT into your marketing campaign; time, effort, and costs, including:
Your team coming up with a creative campaign
The design of your digital & physical marketing assets for the campaign
The costs associated with printing & shipping the marketing assets to your stores
Potentially paid advertising (Google ads, social media 'sponsored posts', print ads, radio commercials etc) to further promote the campaign
Your team to change signage, window displays and hang up your marketing assets in-store to reflect the campaign
Every retailer wants every campaign to be an outstanding success! Yet, most retailers have not engaged their already-paid-for marketing channels with their shopping centers in order to drive more awareness about their campaign, which ultimately leads to more traffic and sales!
Wait a minute! Is it really that simple?
Well, yes and no. In short, it is typically a time-consuming, complex, cumbersome and fragmented process.
Below is the Retailer Engagement Report, prepared by Engagement Agents, which summarizes retailer engagement on Black Friday 2018 and 2017 at the top 10 shopping centers in the United States and Canada based on annual sales per square foot. You will see that most retailers continue to NOT take full advantage of their shopping centers' physical and digital marketing channels, despite already paying significantly for these opportunities via their lease agreements. In a previous article we outlined how to overcome some of the challenges with retailer engagement.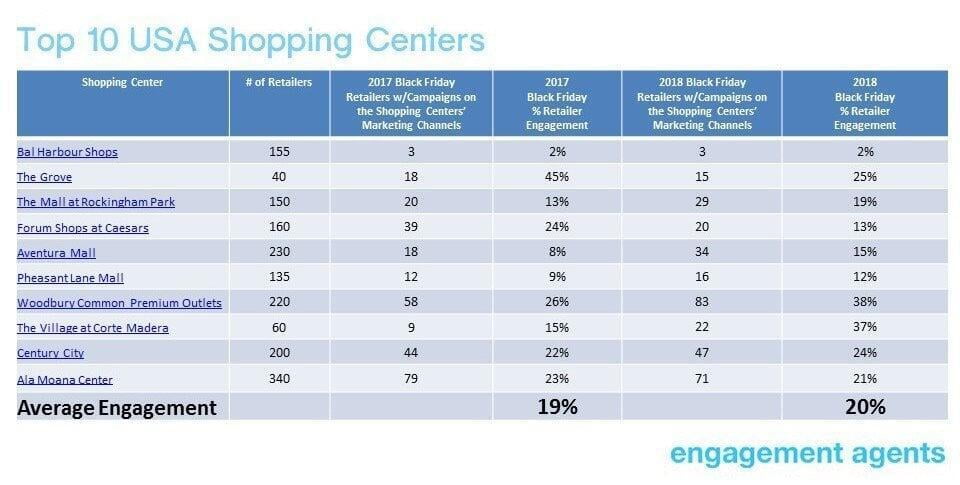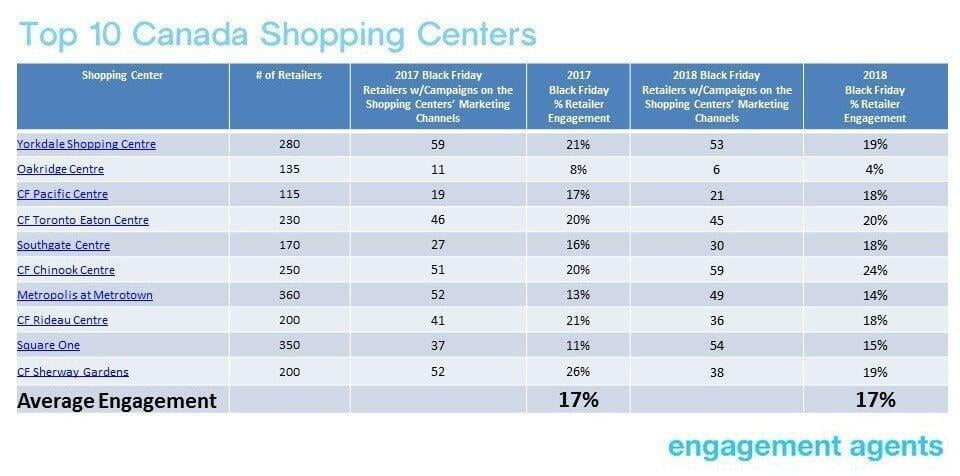 Safe to say, almost every retailer had at least one campaign happening on Black Friday. Thus, more traffic and sales opportunities for those retailers actively engaged.
The report, speaks for itself. It indicates a significant disconnect between what is being promoted throughout the shopping centers' physical and digital marketing channels and what is actually happening at the stores within the shopping center. Again, when you consider that this marketing opportunity is already paid for by you, the retailer, via your lease agreement, you'll have to agree that this is one BIG missed opportunity.
Given more and more consumers are seeking out what is happening in-store through the shopping centers' marketing channels (mobile/web, app, social and email) BEFORE they visit the shopping center or your store. And, given what retailers actually have happening in-store is not consistent with what the shopping center shows is happening within their stores, the negative short and long-term effects to retailers are significant, including:
A poor customer experience
Decreases in customer engagement
Lost traffic and sales
The result? Millions in lost impressions, traffic and sales to your stores, ecommerce & social channels. If you would like to learn more about how Engagement Agents solves this challenge for retailers world-wide and how we can solve this for you, visit https://www.EngagementAgents.com